Tip: How to present to the Health Office your student's Covid-19 test results.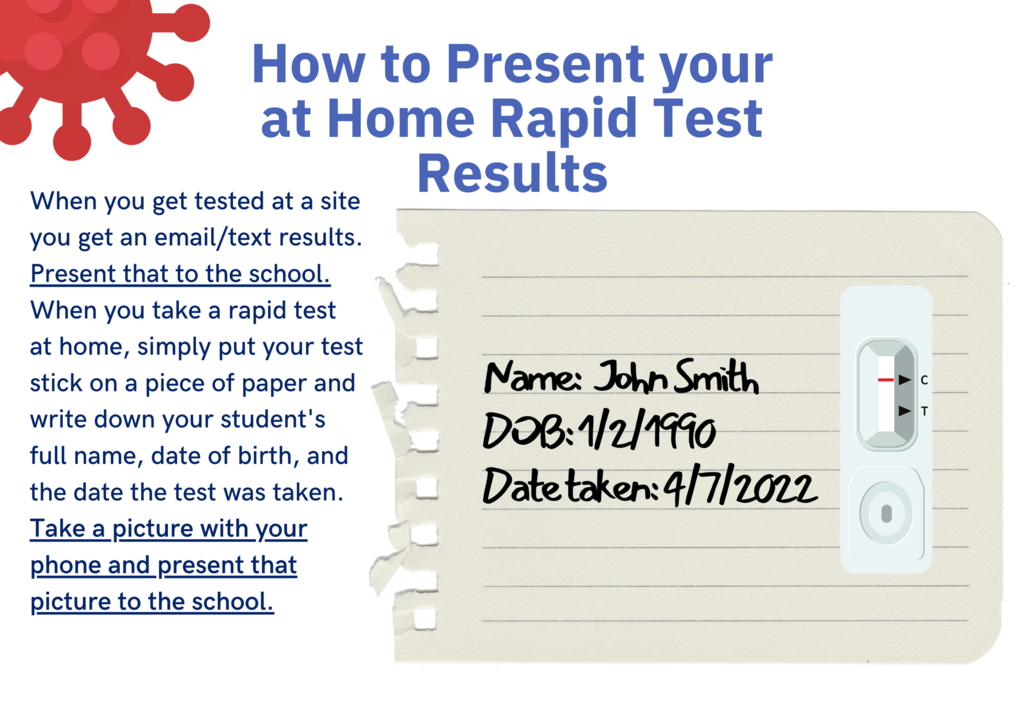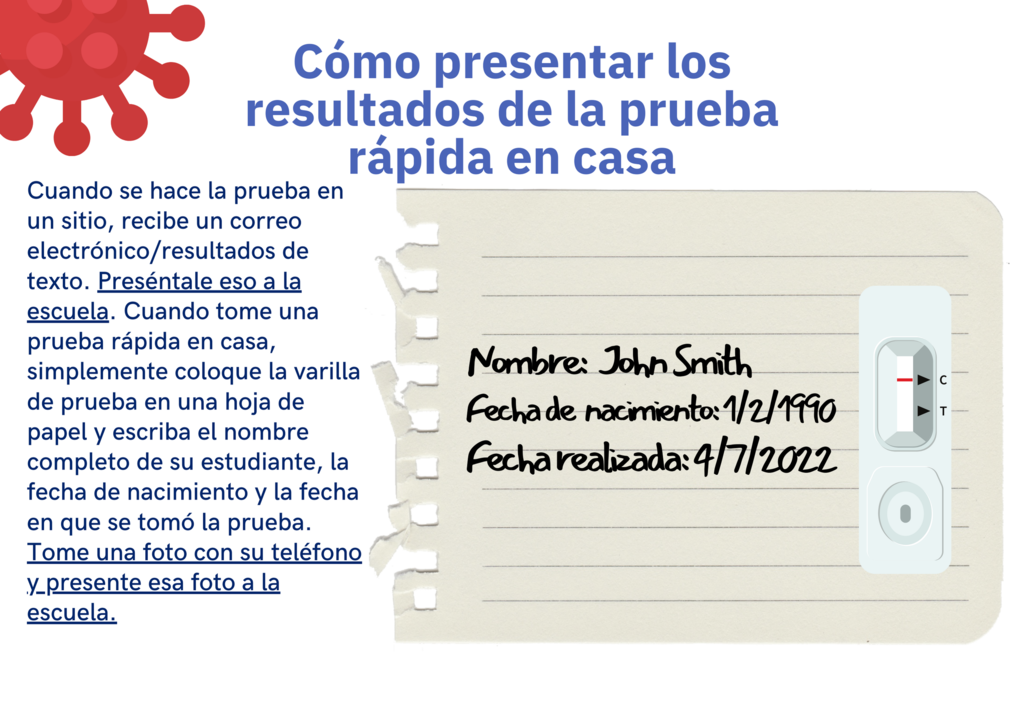 Good morning Keppel Academy Families, We would like to inform you that our VIRTUAL Back To School night will be on August 18th. The Principals welcome starts at 4:30pm Teachers virtual classrooms open at 5:00pm. There will be three separate sessions ​for teacher meetings SESSION #1 - 5:00 - 5:20 SESSION #2 - 5:20 - 5:40 SESSION #3 - 5:40 - 6:00 Please check out the ​flyers below for ​the links to the meetings.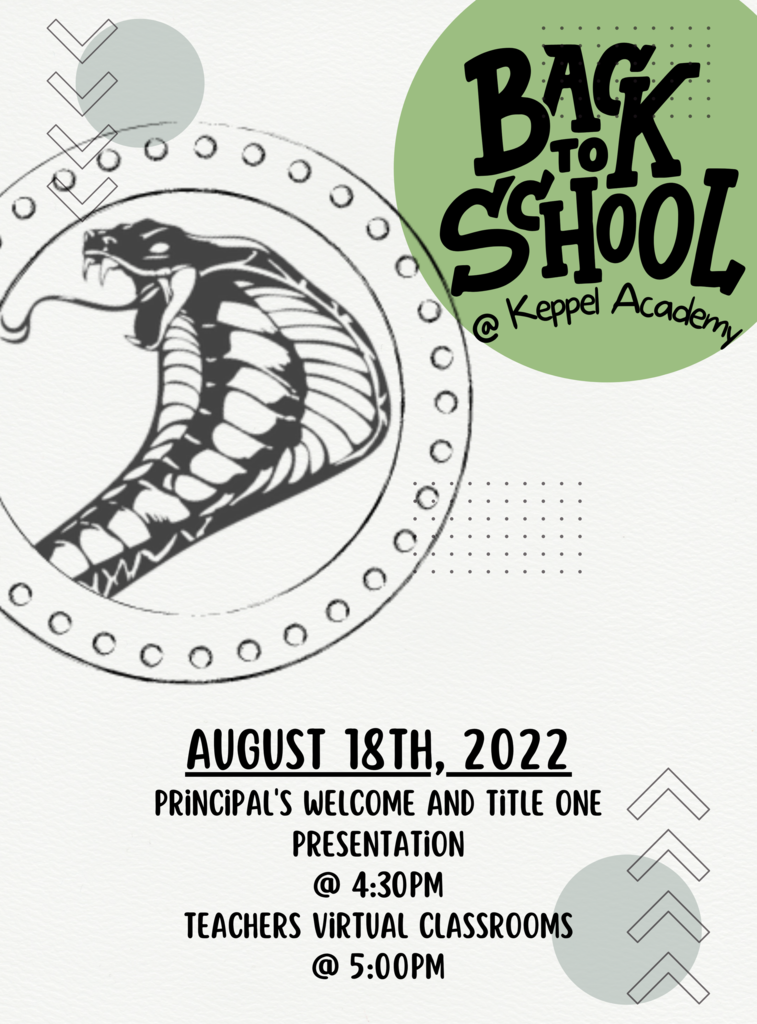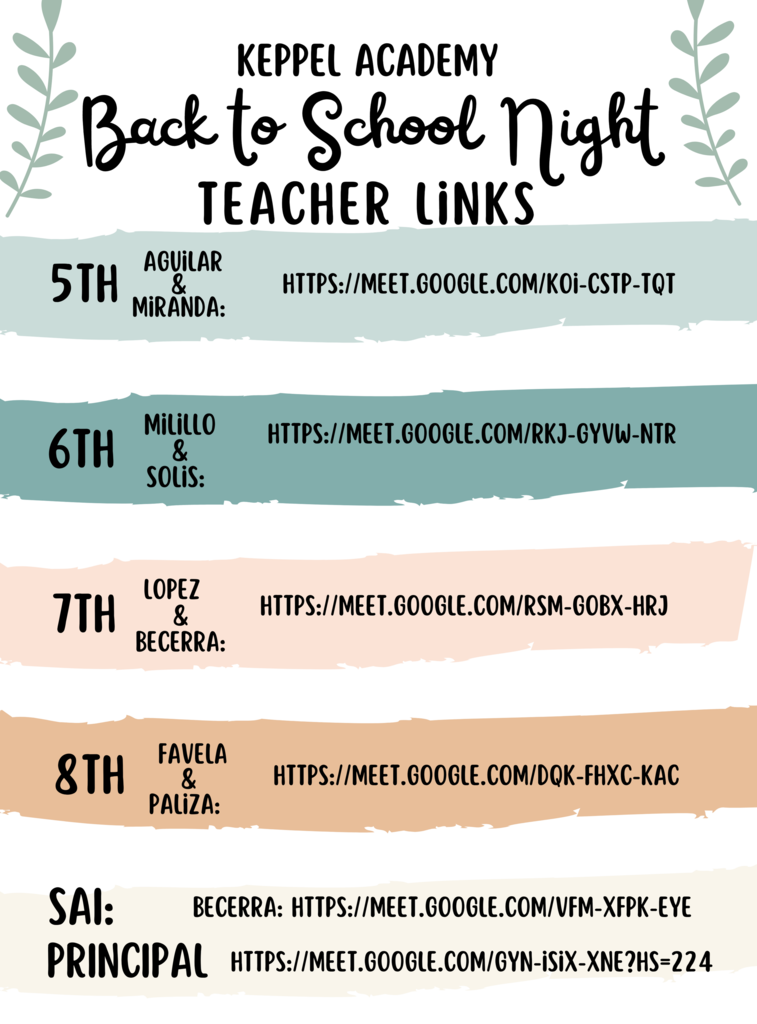 Please remember to do your students health screenings though Parent Square before dropping them off at school. This will make our drop off go smoother and quicker! Thank you very much and we look forward to seeing you!

Welcome Letter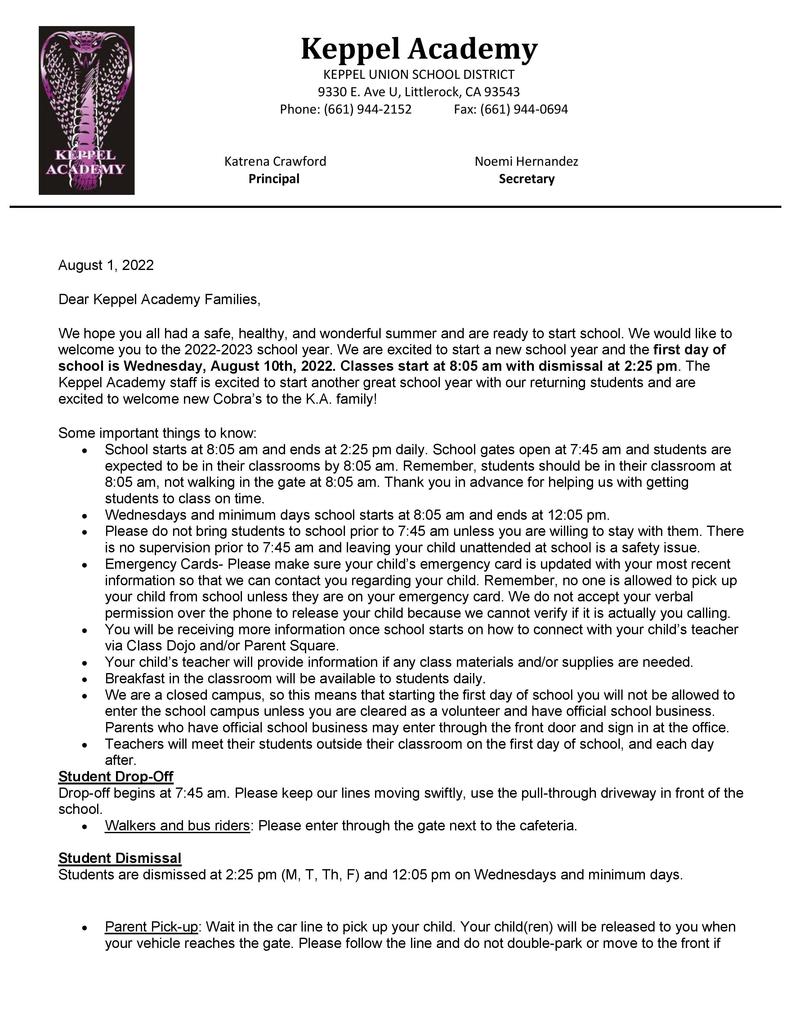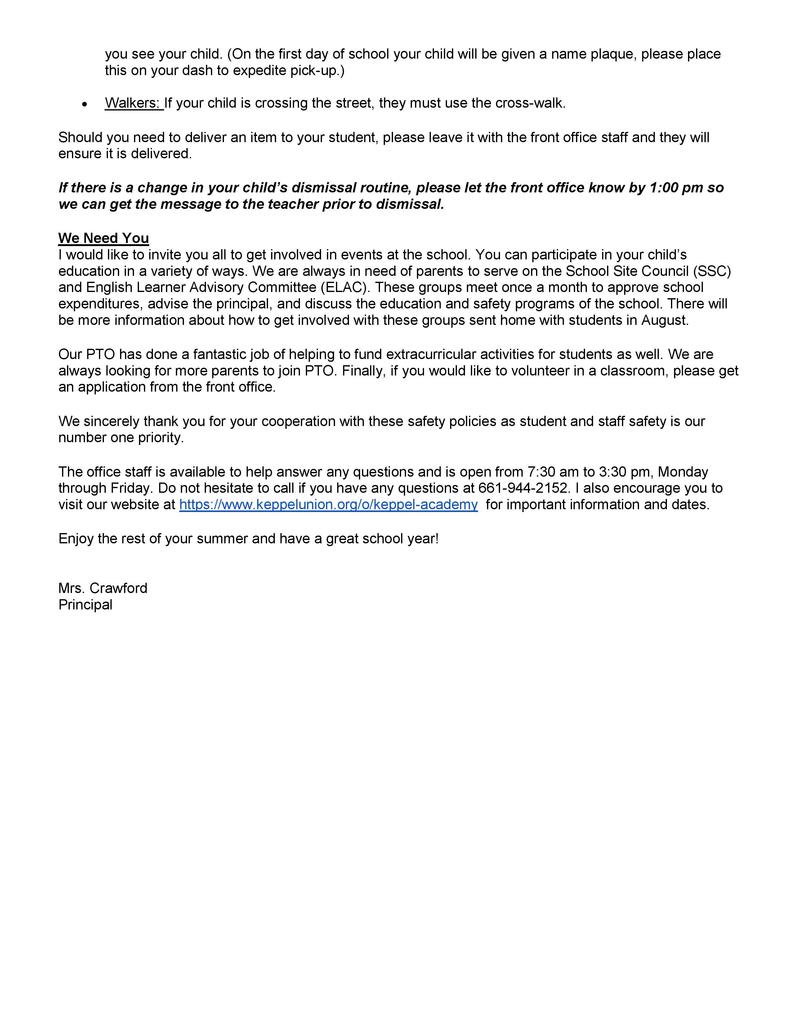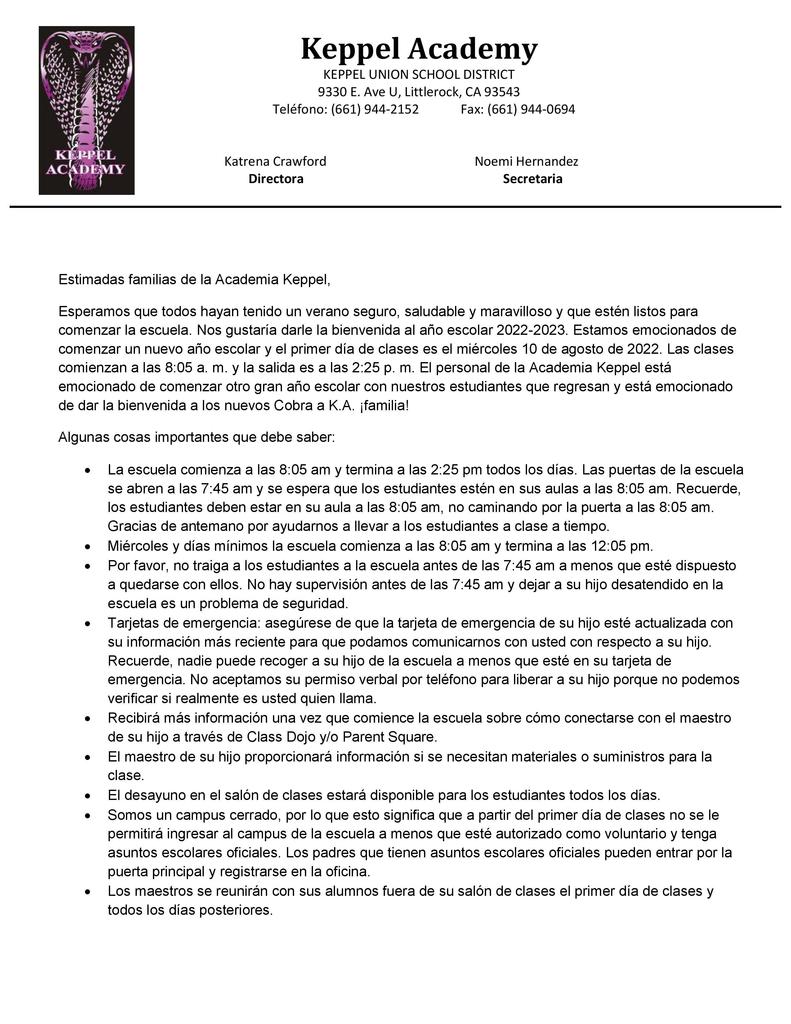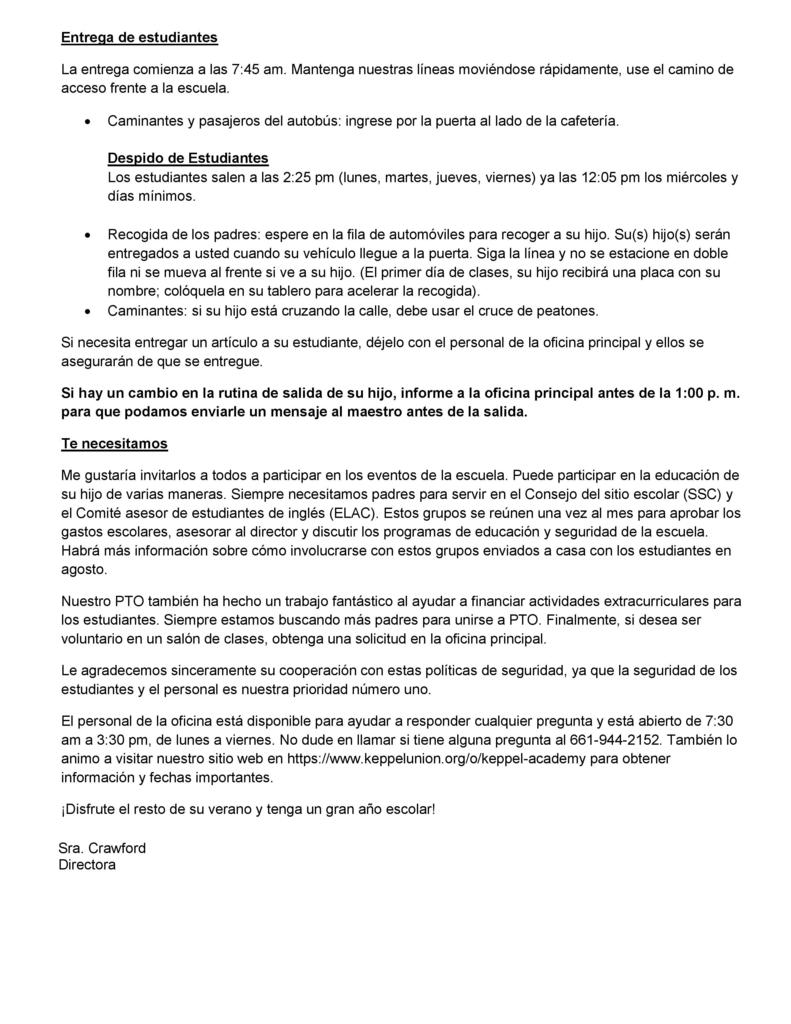 Welcome back!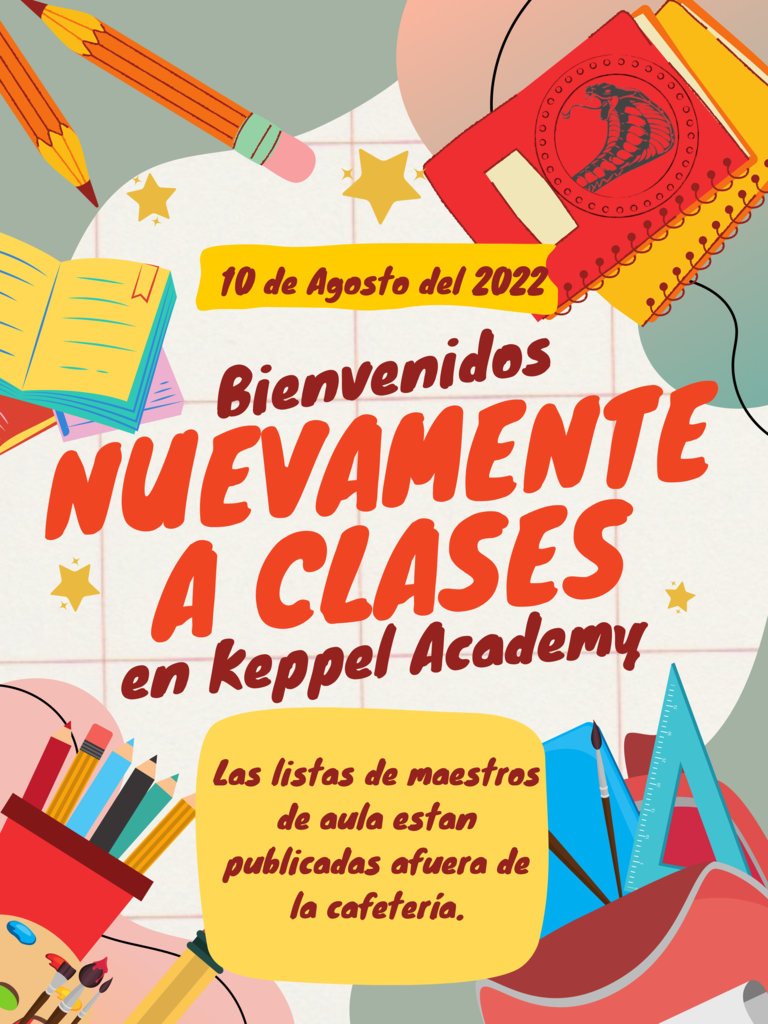 Ms. Casetta Signater will be moving to Daisy Gibson Elementary School as its Principal. Ms. Signater started with the Keppel Union School District as a Program Specialist at the end of the last academic school year and is an experienced school administrator. She is new to the Antelope Valley and we welcome you to extend a warm Mighty Eagles welcome!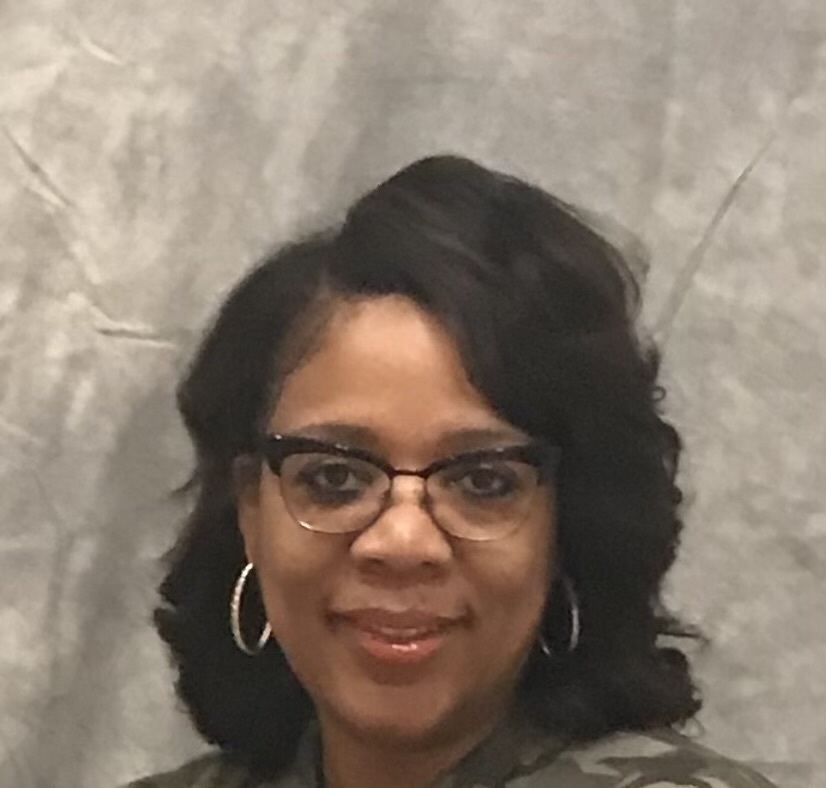 Mrs. Eloisa Acevedo has moved to Antelope Elementary School as its Principal. Mrs. Acevedo has served in the Keppel Union School District since 2018, and most recently served as the Principal of our largest school, Daisy Gibson Elementary. Please give her a warm Mighty Lopes welcome!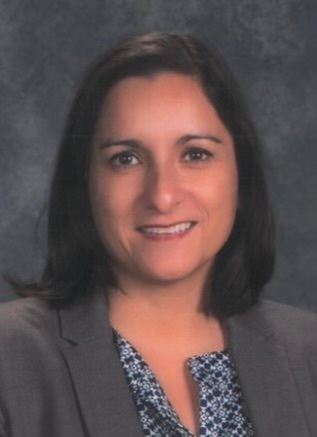 We wanted to notify family and friends that will be coming to our 8th grade promotion that our parking lot will NOT be available for promotion parking until after 8:30. This is because we need the driveway and parking clear during student drop off in the morning.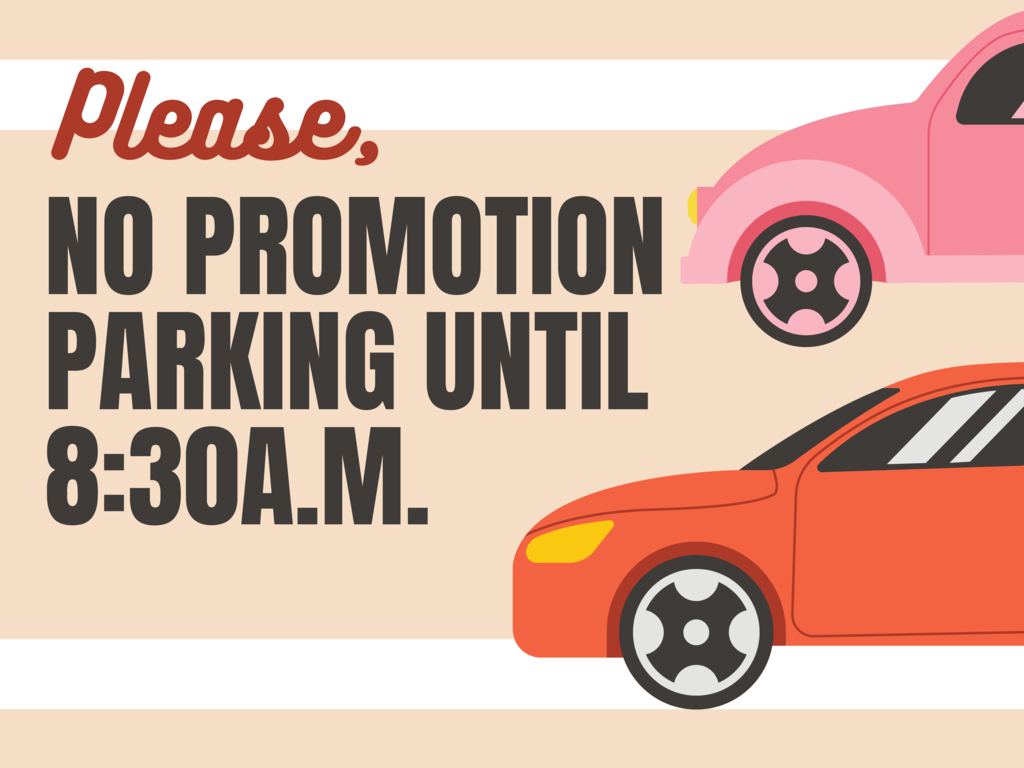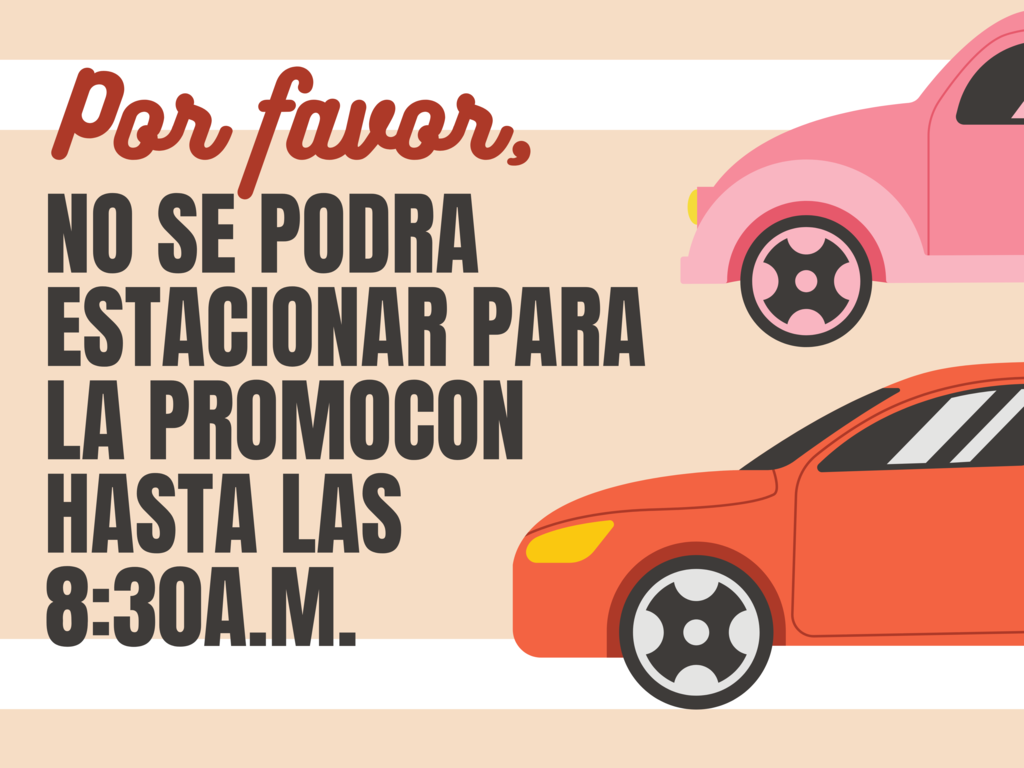 Volunteers needed for 8th grade promotion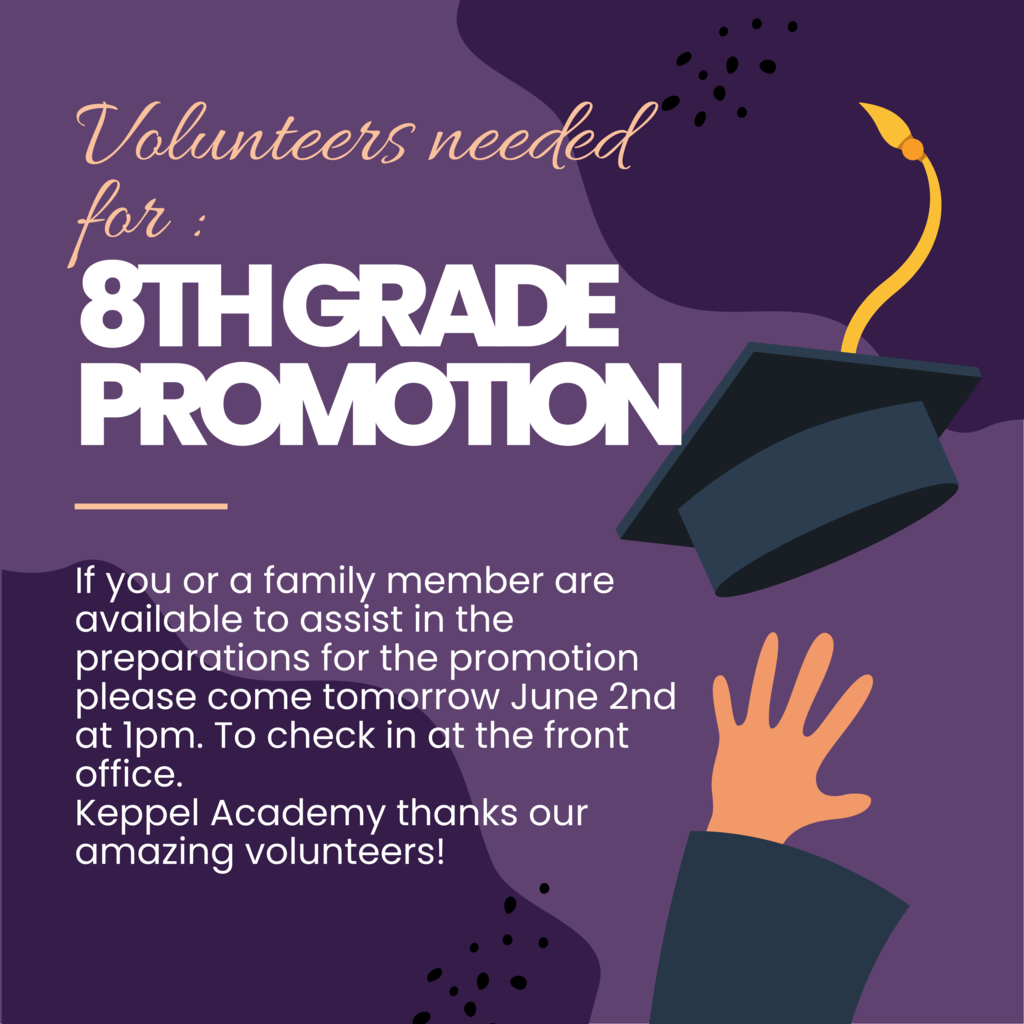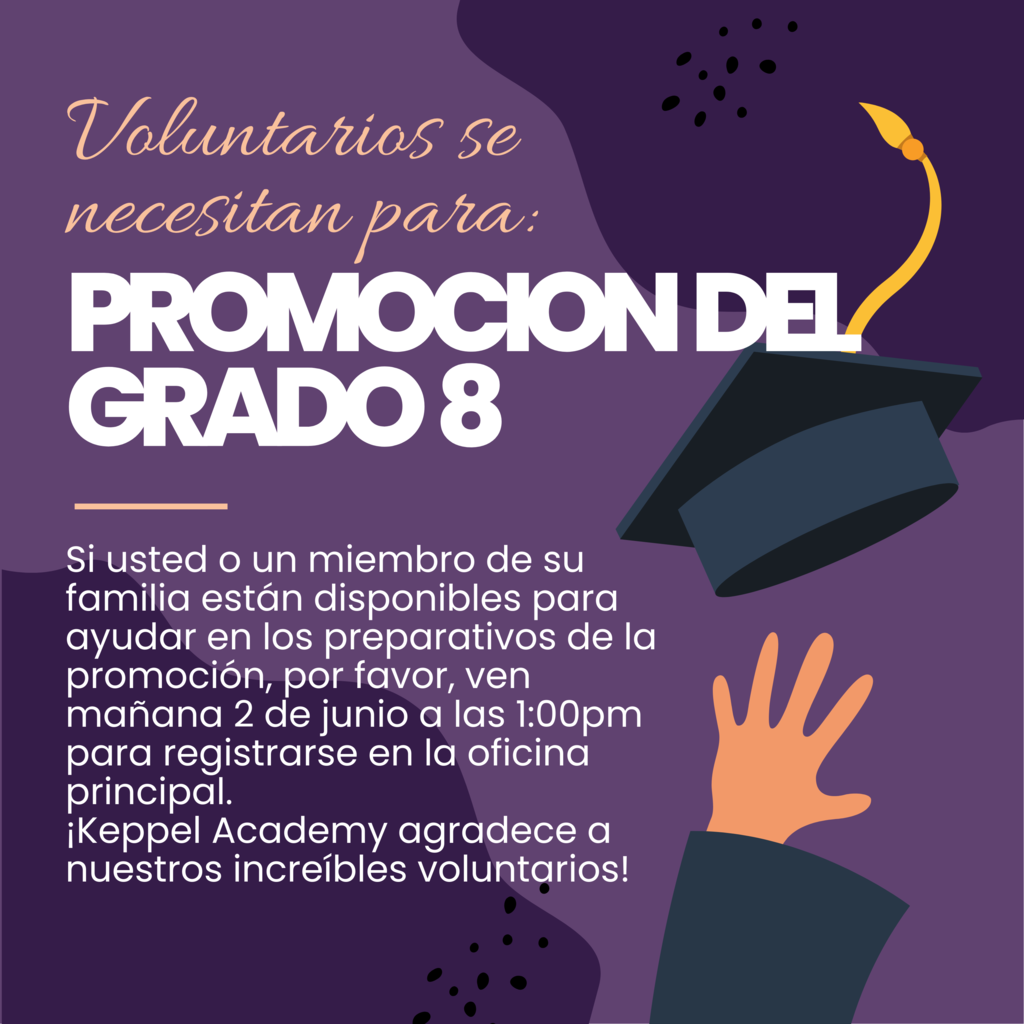 HAPPY CLASSIFIED EMPLOYEES' WEEK CSEA CHAPTER 516! Congratulations on another year of successful service to our dedicated Classified employees who are 248 Unit Members strong in Keppel. We appreciate your hard work and desire to make a difference in Keppel. Thank you for being on the front lines to keep the business of the district running smoothly and our students safe, academically engaged, healthy, and well-fed!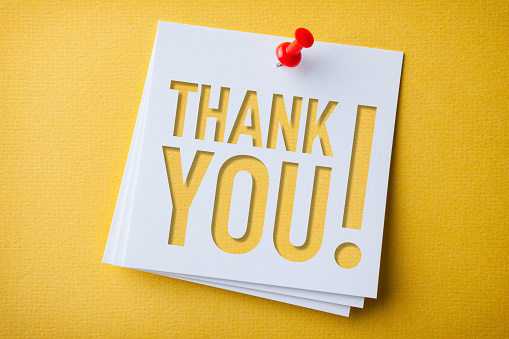 Good afternoon Keppel Academy Families, I want to advise you that we were informed today of a posting on Instagram from more than a month ago referencing potential gun violence on our campus. We have thoroughly investigated this allegation and have found there to be no credible risk to our students and staff. We will continue to be vigilant as safety is our top priority. Please speak with your child to reinforce that it is imperative to report any real or perceived threats immediately to any adult on campus as soon as the child becomes aware. Should your child need support in any way, please do not hesitate to contact your child's teacher or me. Sincerely, Mrs. Crawford, Principal (661)944-2152 Office —- 12 de mayo de 2022 Buenas tardes familias de la Academia Keppel, Quiero informarles de que hemos sido informados hoy de una publicación en Instagram de hace más de un mes que hacía referencia a una posible violencia con armas de fuego en nuestra escuela. Hemos investigado a fondo esta alegación y hemos encontrado que no hay ningún riesgo creíble para nuestros estudiantes y personal. Seguiremos vigilando, ya que la seguridad es nuestra máxima prioridad. Por favor, hable con su hijo/a para reforzar que es imperativo informar de cualquier amenaza real o percibida inmediatamente a cualquier adulto en la escuela tan pronto como el niño se da cuenta. Si su hijo/a necesita apoyo de alguna manera, no dude en ponerse en contacto con el/la maestro/a de su hijo/a o conmigo. Sinceramente, Sra. Crawford, Directora (661) 944-2152 Oficina
This week we celebrate National School Nurses and our Health Professionals during National Nurses' Week. We pay tribute to our Health Services Team for their dedicated care and support of students' overall physical health and wellbeing. We thank them for making a difference in Keppel and ensuring that students have opportunities to actively engage in meaningful learning opportunities, while being in good health!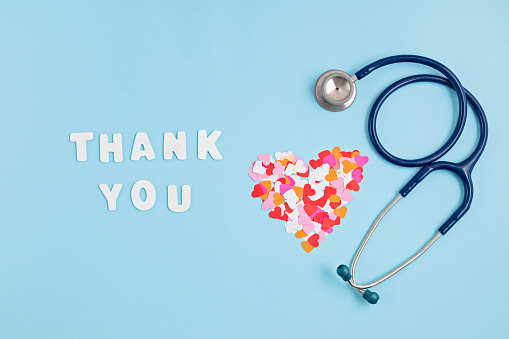 Keppel Academy Open House Links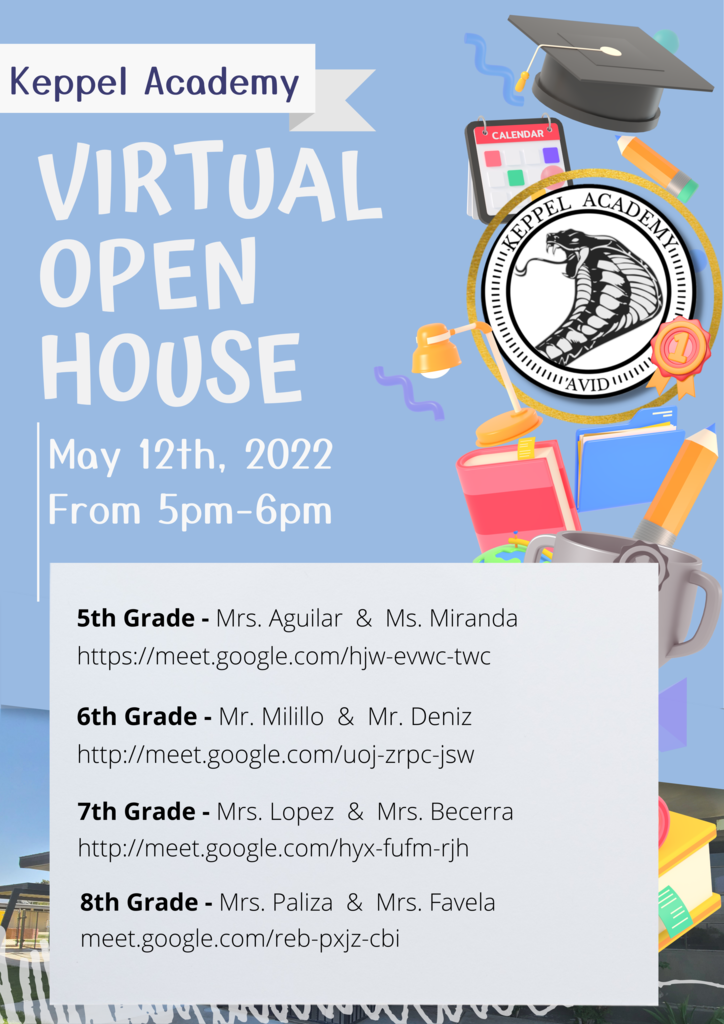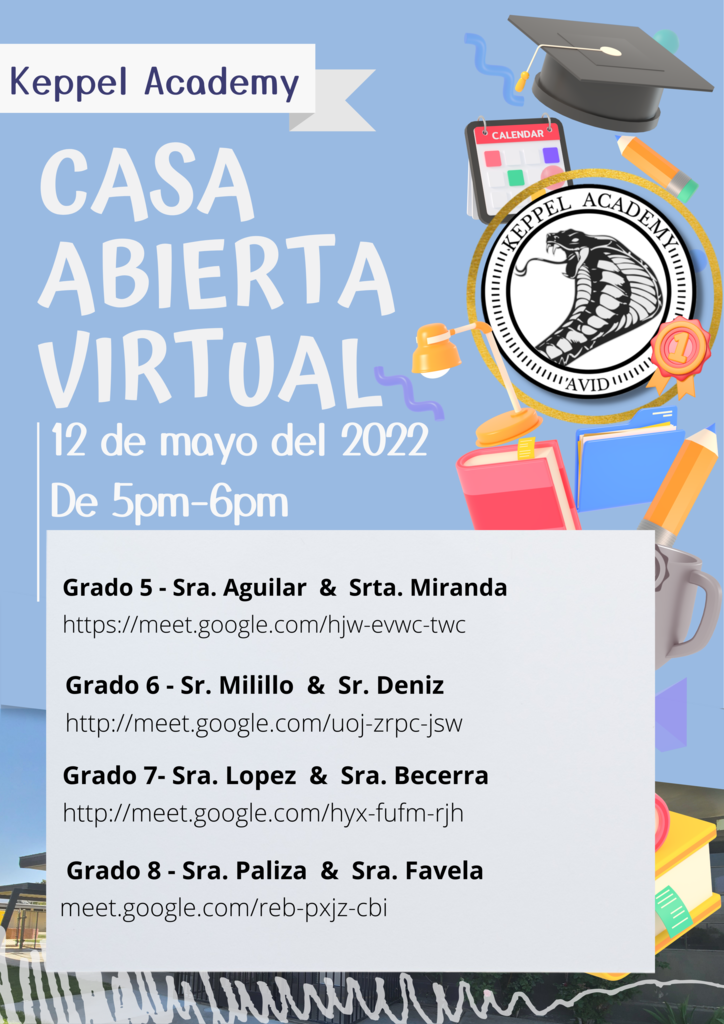 Today on Nutrition Professionals' Day, we celebrate KUSD's dedicated Child Nutrition Services Team for filling our students' tummies and fueling our students' creativity and academic focus. The team is counted on for nurturing and nourishment of our biggest assets, our children! We thank them for supporting students daily.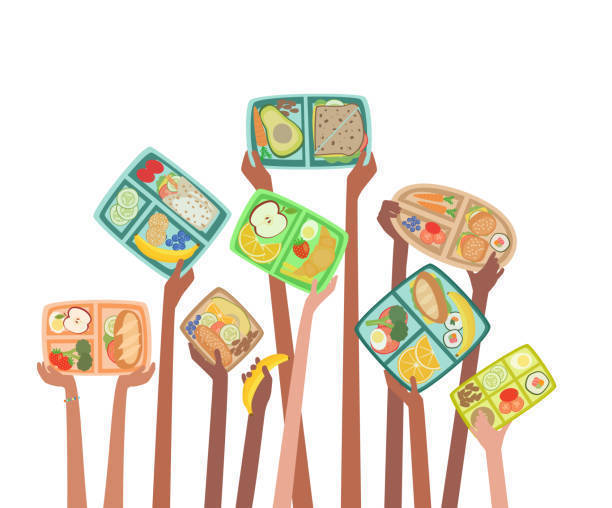 The Keppel Union School District salutes its amazing Teachers on National Teachers' Day 2022! Thank you to our Teachers for their dedication and loyal service to students and the Keppel learning community. Their reach is greater than they will ever know. "The influence of teachers extends beyond the classroom, well into the future. It is they who shape and enrich the minds of the young, who touch their hearts and souls. It is they who shape a nation's future." (F. Sionil Jose; brainyquote.com)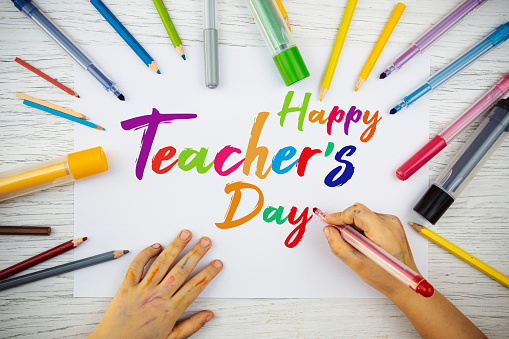 Today on National Administrative Professional Assistants' Day 2022, we celebrate KUSD's amazing Administrative Assistants for their support to ensure the smooth functioning of our school and district offices. Thank you to our committed and loyal Administrative Assistants who exemplify top notch customer service!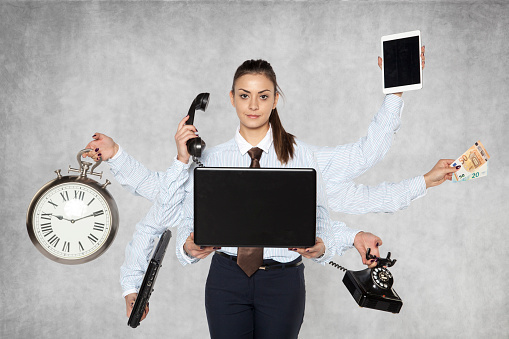 Today we celebrate KUSD's amazing Bus Drivers for ensuring students arrive at school and home safely each school day. Thank you to our committed Bus Drivers on School Bus Drivers' Day 2022!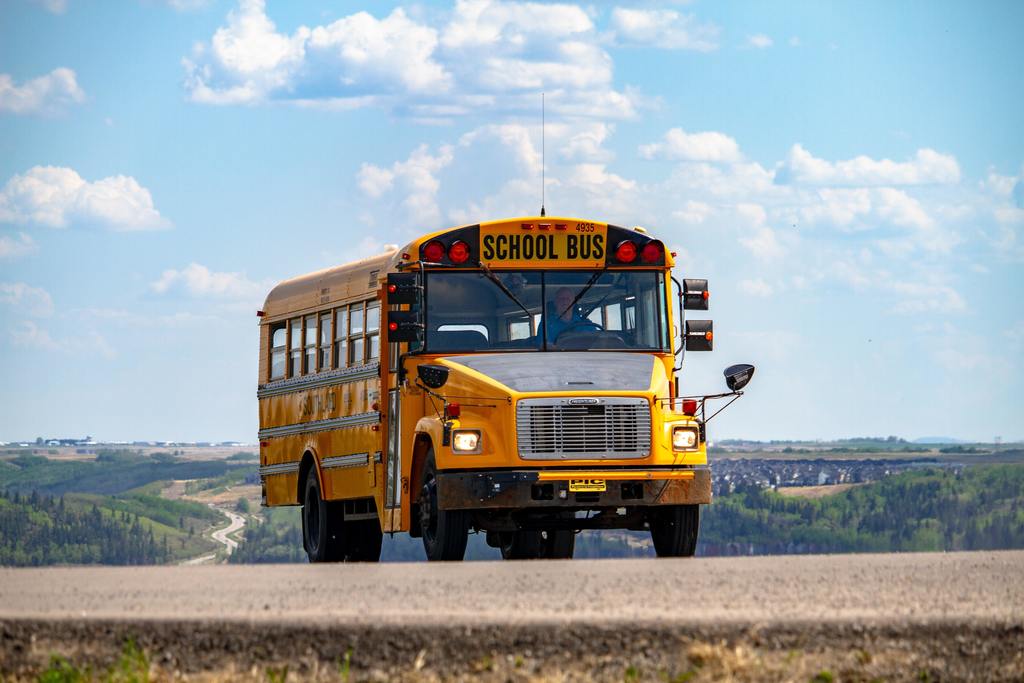 SAFETY UPDATE: Some parents have contacted the district inquiring about safety. There have been no threats made in relation to our district schools that we are aware of. We have been in consultation with the Los Angeles County Sheriff's Department to verify this information as well. The District will communicate any needed updates. Please communicate any information to District staff immediately that will maintain the safety and security for all. ACTUALIZACIÓN DE SEGURIDAD: Algunos padres se han comunicado con el distrito para preguntar sobre seguridad. No se han hecho amenazas en relación con las escuelas de nuestro distrito que sepamos. También hemos estado en consulta con el Departamento del Sheriff del Condado de Los Ángeles para verificar esta información. El Distrito comunicará cualquier actualización necesaria. Por favor comunique cualquier información al personal del Distrito inmediatamente que mantendrá la seguridad para todos.
NO CHANGE TO START TIMES IN KEPPEL IN 2022-23: Keppel schools will not change the start times in the upcoming year. Based on Bill No. 328, instruction in California must start after 8:00 a.m. for middle schools and after 8:30 a.m. in high schools next school year. All schools in Keppel already have start times after 8:00 a.m. so there is no need for any changes to the bell schedule.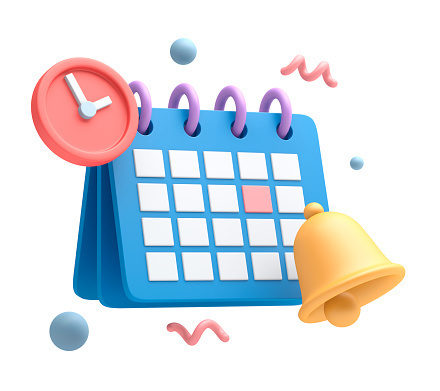 The Keppel Union School District is seeking student-centered individuals who would like to join the district's dedicated and loyal workforce. To see available jobs and to apply, click on the blue tab on the district website's homepage at the top right, "Join our Keppel Team." If you have questions about open positions, please contact the Human Resources department at 661-944-2155. You may also visit the following link to see open positions and to apply:
https://www.edjoin.org/Home/Jobs?countyID=0&districtID=1214