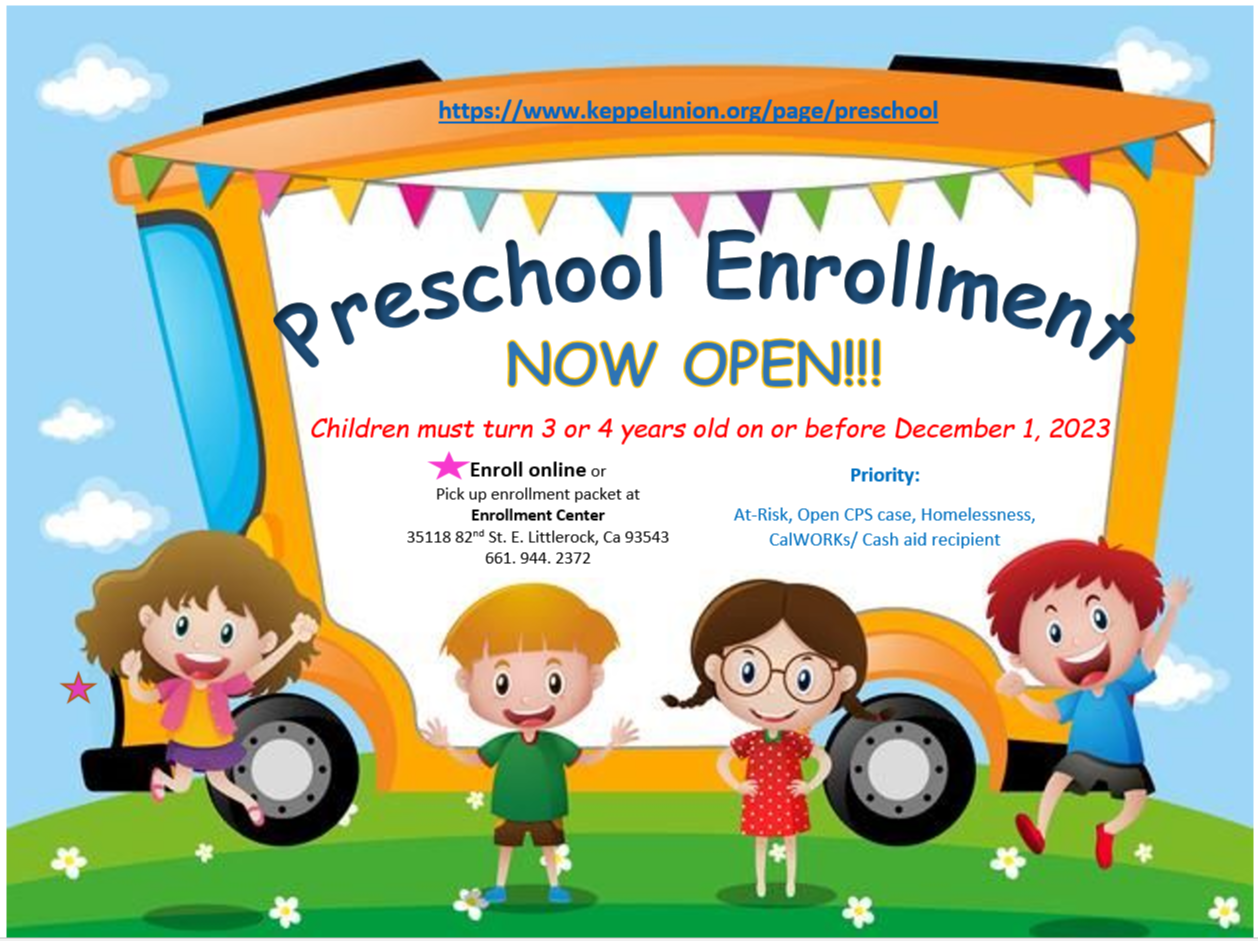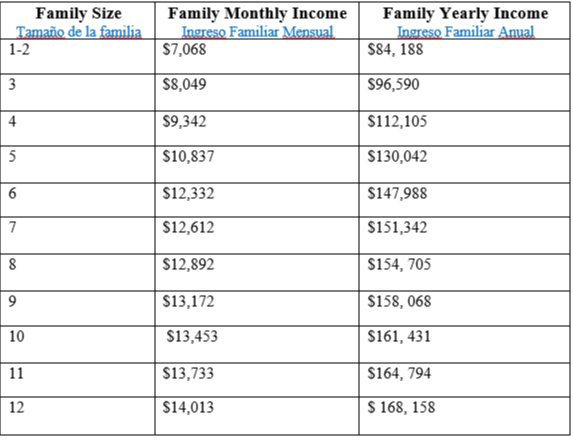 Keppel Preschool Programs
Preschool is now open for in-person learning at Alpine*, Antelope, Lake Los Angeles, and Pearblossom for children ages 3 to 5 years old.
*Special Education Preschool- "The Little Wonders Program" is exclusively offered at Alpine Elementary School
Enrollment Center
661. 944. 2372
25118 82nd St. E. Littlerock, CA 93543
Schedule
AM Cohort
8:30 a.m. to 11:30 a.m.
PM Cohort
12:30 p.m. to 3:30 p.m.
ENROLLMENT PROCESS
STEP 1: Complete our Eligibility Screening --> Eligibility Screening
STEP 2: Complete application for Mini Scholars Program (email application or drop off at Enrollment center) --> Click HERE for application
2B: Provide ALL required documents (email documents or drop off at Enrollment center)
STEP 3: Enrollment Center will contact you for status update
STEP 4: Notice of Action will be provided (in person or via email)
***Application and supporting documents can be emails to Lupita at enrollment@keppel.k12.ca.us***
ELIGIBILITY
Children 3 and 4 years of age may be eligible for Part-day preschool if:
Children who have their 3rd birthday on or before December 1 of the fiscal year they are being served. Children who have their 4th birthday on or before December 1 of the school year may also apply for the program.
Eligibility is based on either, child or family eligibility.
Parent's must provide documentation of eligibility in 1 or more of these categories:
At-risk of abuse, neglect or exploitation

Child protective services
Family Eligibility
Current aid recipient

Homeless

Income Eligible

Reside within approved FRPM (free-reduced meal program) elementary school boundary (CSPP 4 year old only)

Over-Income family with exceptional needs
DURATION OF SERVICE REQUIREMENT:
Once a family establishes eligibility, they will remain eligibility for 12- 24 months. All eligible families will be contacted as enrollment begins or openings occur.
Children receiving Child protective services through the county welfare department may receive development services if referred by a county child welfare services worker.

Children at-risk of abuse, neglect, or exploitation, & referred from a legally qualified professional in a legal, medical, or social services agency, a local educational agency liaison for homeless children & youths, a Head Start program, or an emergency shelter may receive child care & development services.
NO PROGRAM COST
There is no cost for our Preschool Program for those eligible to enroll. This valuable quality program is funded by the California Department of Education. When an opening is available, staff access the waiting list and contact families based on the following program admission priorities:
ADMISSION PRIORITIES
Enrollment Priorities for 5% of funded enrollment: 5% of CSPP funded enrollment is reserved for Children with Exceptional Needs. To extent possible, enroll in income ranking order. If 2 or more families have the same ranking, enroll the family with earliest application date first.
Note: Only child in family who has exceptional needs may be enrolled under this eligibility criteria ENROLLMENT PRIORITIES FOR 95% OF FUNDED ENROLLMENT:
First: Child is recipient of Child Protective Services or At-Risk of being neglected, abused or exploited
Second: Child with exceptional needs from income eligible family (Enroll in income ranking order)
Third: Eligible 4 year old not enrolled in Transitional Kindergarten. Within each income ranking prioritize as follows: • Exceptional needs child • Earliest application date
Fourth: Eligible 3 year old. Within each income ranking prioritize as follows: • Exceptional needs child • Earliest application date
Fifth: Family income is not more than 15% above income threshold. Prioritize as follows: (limited to 10% of funded enrollment) • Exceptional needs child • 4 year old child • 3 year old child
Sixth: Approved CSPP site operating within attendance boundaries of a qualified Free or Reduced Price Meals school, 4 year old child may be enrolled without establishing eligibility Note: To extent possible, enroll in income ranking order
Seventh: tested government programs: Families who have a member of its household who is certified to receive benefits from Medi-Cal, CalFresh, the California Food Assistance Program, the California Special Supplemental Nutrition Program for Women, Infants, and Children, the federal Food Distribution Program on Indian Reservations, Head Start, Early Head Start, or any other designated means-tested government program, as determined by the department, will be categorically eligible. The CDE has determined that CalWORKs is a means-tested government program that families can use also under this provision to get categorical eligibility
Eighth: Children enrolling to provide expanded learning & care to transitional kindergarten or kindergarten pupils may be enrolled in a wraparound setting if family meets eligibility criteria
REQUIRED DOCUMENTS
Birth Certificate (for every child under the age of 18 living in the home)

Immunization records

Proof of residence (utility bill, government letter…etc.)

Income Verification (see below for details)
REQUIRED IMMUNIZATIONS
3 Polio

4 DTaP

3 Hep B

1 Hib

1 Vericella
INCOME VERIFICATION
The Keppel Union School District (KUSD) offers preschool to students from ages 3 to 4 years old who live within the boundaries of the KUSD and meet the required criteria, per the State of California.
 A. Check or direct deposit - No more than 2 months' back. Income verification will be conducted.
2 Pay Stubs (If you get paid 2x/month)

2 Pay stubs (If you get paid 1x/ month)
 C. Self Employed - Statement of self-employment --> Click HERE for form
****Please refer to the information up top for details on family income eligibility.
For any questions or concerns about Preschool please contact Antoinette Andriese, Secretary of Instructional Services at (661) 262- 1138
For any questions regarding Special Education Services and The Little Wonders Program please contact the Special Education Department at (661) 994- 0805