MEET OUR STAFF
Support Services
35118 82nd Street E. Littlerock, CA 93543 661- 944- 2372
Director of Support Services
Secretary
Save the Children - Early Steps to School Success
661- 944- 3221 x 1103
Coordinators
Candy Ortega

Griselda Gudino

Itzel Pineda

Karina Ramos
Supervisor 661-944-4058
Bonnie Shook RN, BSN, PHN
Alpine - Megan Loucks
Antelope - Melissa Portillo O'Dell
Daisy Gibson - Issa Makhlouf
Keppel Academy - Emilie Christian
Lake Los Angeles - Daisy Alvarez/Sarah Lopez
Pearblossom - Ezequiel Dorado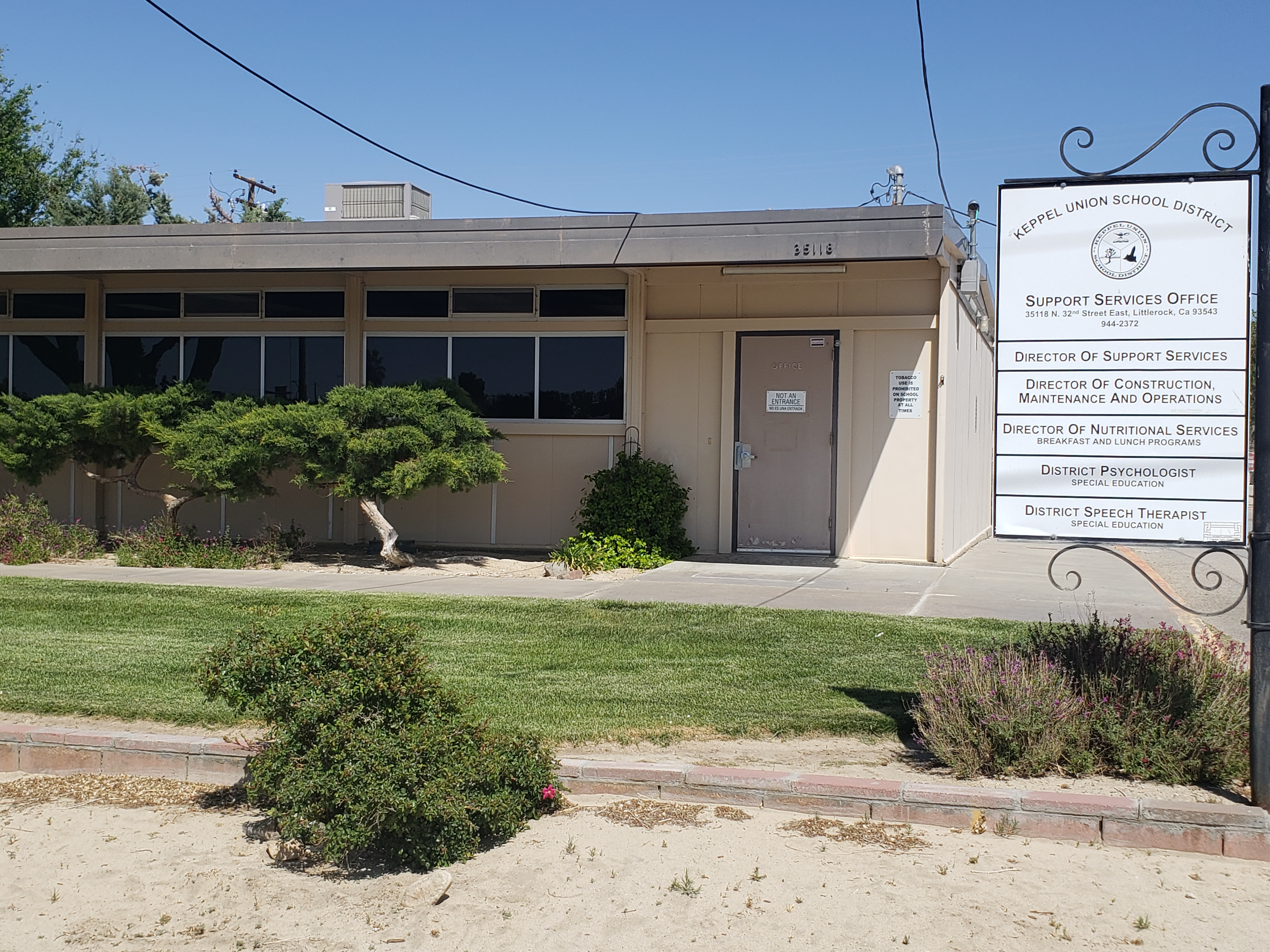 Support Services Office - 35118 82nd St. East, Littlerock, CA (661) 944-2372
The mission of the Keppel Support Services Office is to provide information and support to meet the ever changing needs of our students, parents, staff, and community.
The Keppel Support Services Office (SSO) provides a full range of services to "at risk" students. The Support Services Office provides direct services and support at each of our 6 school sites.
The Support Services Office provides services and programs that include attendance information, transfer requests, caregiver forms, and alternative education. We support and serve students and families through a wide range of educational services including: Foster Youth, Homeless Youth, Save the Children, health services, and school counselors.
SSO also provides information regarding:
Enrollment:

Caregiver Forms

Foster Youth

Intra district Transfers (school to school)- see below

Inter district Transfers (District to District) - Available at district of residence

(click HERE for transfer request from KUSD)

Positive Behavior Intervention Supports - PBIS

RISE after school program

Save the Children - Early Steps to School Success

Student Attendance - Attendance Process English / Spanish

Student Attendance Review Team (SART)

Abolish Chronic Truancy (ACT)

Schools Attendance Review Board (SARB)

Student Discipline - KUSD Discipline Guide

Student Expulsions
Intra District Transfer form
Please complete this form if you wish your child to attend a school other than their residence school. The application period is from May 1st to May 31st. Please click here for the transfer forms. One form for each student is required. Please email your transfer to gaylesp@keppel.k12.ca.us
You will be notified after July 20th whether your application has been approved or not.
Positive Behavior Intervention Supports (PBIS) is a process for creating safer and more effective Schools. The process focuses on improving a school's ability to teach and support positive behavior for all students. PBIS includes school-wide procedures and processes intended for all students and all staff in all settings.
35118 – 82nd Street East
Littlerock, CA 93543
661-944-2372 Fax 661-944-3175
Office Hours
8:00AM - 4:00PM